Little Black Dress Initiative
November 30 – December 4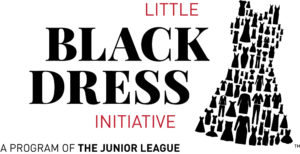 What is LBDI?
During the week of November 30 – December 4, 2020, the Junior League of Wilmington will participate in the Little Black Dress Initiative (LBDI), a social media campaign aimed at raising awareness of human trafficking in Southeastern North Carolina. Participants wear the same black outfit every day and share information, statistics, and more on social media.
Why does JLW do LBDI?
Wilmington ranks in the top four cities in North Carolina for human trafficking, largely due to its tourism industry, easy access to highways, and stable economy.
We believe that education is the first step toward meeting our goal of reducing the rate of human trafficking in Southeastern, NC. We believe that one of the reasons human trafficking persists is that it tends to occur outside of the public eye. Our campaign intends to help bring this issue to light, using the power of collective action. We know that COVID-19 has impacted all of us, including human trafficking survivors. This is an initiative that the public can support safely and virtually. Our campaign also aims to raise awareness about our work in the community and raise funds to help support our mission.
Ways to Get Involved!
Follow and share the campaign by following our social media
Facebook: @JuniorLeagueofWilmingtonNC
Instagram: @JuniorLeagueILM
Follow and share the campaign by following our hashtags
#JLWNCdoesLBDI
#askmeaboutmydress
Donate to the campaign by visiting our GoFundMe page
Pledge to be a community champion
Pledge to wear all black and share information about human trafficking. To sign-up email [email protected]